On Henri Cartier-Bressons' Photography
If you are starting in street photography, among the long list of dead and current photographers to aspire to, Henri's name will likely appear quite quickly, and he is generally considered one of the best, if not the best documentary/street photographer of this century.
Henri's work appeared during the 'second wave' of photography, around the 1930s when cameras became far more affordable and accessible. Henri's work is beloved because of its unique assessment of the characters and locations he captures and how he captures them.
His work is inspired by compositional techniques taught to him by Andre L'hôte. Techniques intended for painting but which didn't go to waste in his photography endeavours. Above all else, Henri was one of the 5 founders of Mangum Photography – the absolute pinnacle of success for those of us who dare to dream it.
It's interesting that we still follow a man who toward the end of his life actually renounced his passion and interest for photography and returned to painting on canvas, but I guess the man we all passionately follow is the one who took the photos rather than the character who later had a change in heart.
"To take a photograph is to align the head, the eye and the heart. It's a way of life" – Henri Cartier-Bresson
This is what is unique about photography, it preserves the moment a photographer selected to take, not the character that manifests as a photographer in that moment; instead, we follow the character beyond the moment and assume the two states of being are one and the same.
Irrespective of his change of heart, much of his photo works inspires me to take more purposeful and narrative-driven photos while always focusing on my interest in geometry. I hope to master the lens as he has done so charismatically throughout his years.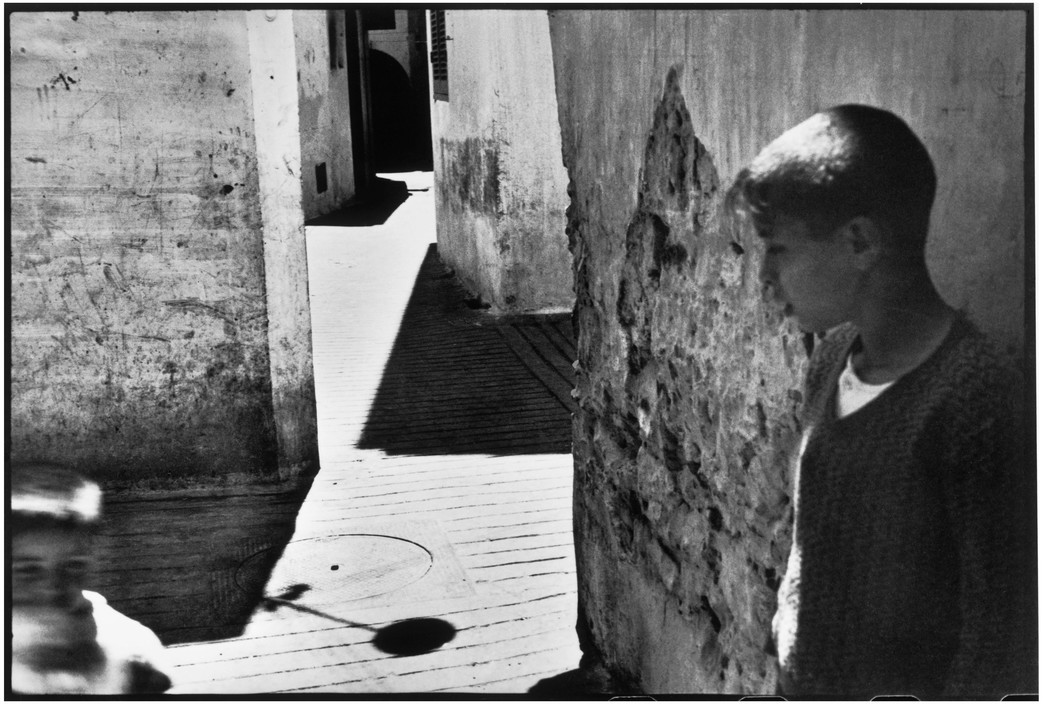 What draws my attention and interest to Henri's work personally is the finer details in his work. The difference between a good photo and a great photo in Henri's case is the difference between intent and timing. Without the elements (like all great photos) presented in the image as they are, his photographs wouldn't be all that inspiring. The thing to note in Henri's case when it comes to his work is, he is less inclined to care about the technical functions of his camera, and more interested in the feeling of the moment, as he describes in the opening paragraphs in his book "The Minds Eye."
One photograph that comes to mind which evokes this is the photo of the kids in front of the wall with windows he took in Spain. The positioning and curiosity of the children are present in the image, but not critical to its overall success.
It is the wall in this image that sets the tone for me. The wall is abstract in its own right with strangely placed windows, but the presence of the children and people, partnered with the road and slither of the sky in the top left-hand corner place it back into reality rather than as an arbitrary abstract piece of information.
He takes elements of two realms and melds them into a single object which evokes emotion but also interest in its making. This is what draws me to all of his work. He can bring together an abstract vision into the real but allows both their own space to exist.
Photography has not changed since its origin, except in its technical aspects, which for me are not a major concern. Photography appears to be an easy activity; in fact it is a varied and ambiguous process in which the only common denominator among it's practitioners is their instrument.

'The Minds Eye – Henri Cartier-Bresson'
His approach to photography, married with his own developed understanding of Photography is why I endlessly adore his photos.
In the opening chapters of his books, he continues to introduce the sociological and psychological judgements he believes needs to be made to be a valuable photographer, and that to him the camera at best is a sketchbook. These ideas opened an expressway of interest in diving into the philosophy of photography, and is partly the inspiration to this and many of my other essays.
The remainder of the book offers a lot more insight into his philosophy and thoughts on photography which I won't spoil for you. I highly recommend the book if what I've written above has piqued your interest.
The Henri Cartier–Bresson Foundation in Paris
Many of us would have seen Henri's work in one form or another. The ICP, Magnum, and several other popular online art galleries house some of his most famous works which you can view, but few may be aware of the Henri Cartier-Bresson Foundation. A gallery in the 3rd District of Paris which houses a collection of his works too.
I'll be in Paris later this year and am extremely excited to head to the foundation and check out the gallery, while I'm there, it looks as though there will be a Wright Morris exhibition on too, which should be interesting.
I'm hoping to pick up a book or a photograph by Henri to go alongside my growing collection of his works. Don't be surprised if there is a follow up post once I've been too!
On reading his photography
One thing I'd like to note as a sign off to this post. There is no right or wrong way to 'read' a photo. Just like there is no right or wrong way to 'read' a painting. I believe that there is an awful illusion being cast by the photographic industry, which suggests to many that to 'read' a photograph, one must be formally trained by an artistic body. I do not believe this to be the case as the nature of Photography is one which exists in half-spaces between truth and the metaphysical.
The properties of Photography challenge the nature of time, and with it present a notional form of abstraction in its objective existence. To read one photo as only offering one thing over another does a total disservice to the billions of imaginations captured by imagery every day. My reading of his work will be different from yours, and I wholeheartedly encourage you to share your view with me!
Europe
With the mention of France above, I thought I would take a moment to note that I will be in Spain, France and Hong Kong very soon, so be ready for a bombardment of photo essays in September!
thanks for reading
~Ed